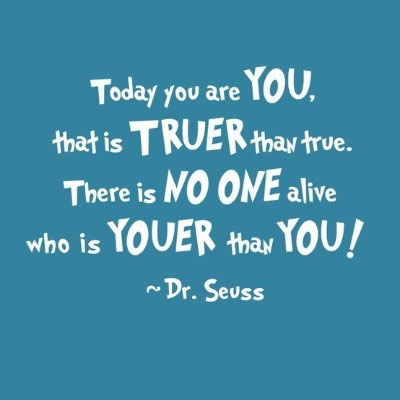 We want to encourage you and tell you that you are one of a kind! You are special, and this world needs you. We just love this quote from Dr. Seuss! Every one of us has our place in the world, and we make a difference wherever we are. We are very grateful that we don't have to be financial managers… and we are very grateful that we can do what we do. What are you thankful for?
Below are a couple of tips on becoming the best you:
• Know and accept your strengths – Know what you are good at.
• Know and accept your weaknesses – Know what you are not so good at and work on the weaknesses you can improve on.
• Broaden your horizons – Learn a new skill or language.
• Be accountable – Accountability is a powerful tool. You will have someone you can share your vision with, and they will help to keep you motivated.
• Be teachable – No matter how old you are, you can always learn something new from someone else.
• Don't take life so seriously – Laugh a little! It's good for you.
• Find a role model – Someone you can look up to and who inspires you.
• Be yourself! Don't ever make excuses for who you are. There has never been nor will there ever be another you. So go get 'em!
• And of course, own your story and tell it! There is a quote that says "If you cannot talk about it, then you're simply not proud of it". You should never feel ashamed of telling your story because every characteristic, every mishap, every obstacle has made you the person you are today and if you're unhappy with that person, then simply continue writing your story. If there's one thing your story and destiny have in common is that you are the master of them both. "There is no one alive that is youer than you!" and only you decide who "you" are… So, own your story and be proud of YOU!